When you create a Sandbox account, it will be a completely fresh account. The new account will not have any of the same users, query history, or other data from your real MaxMind account. No data is saved or synced between your regular MaxMind account and your Sandbox account.
You can set up a Sandbox account through your account portal. This capability is restricted to admin users. Learn more about user permissions.
Create a MaxMind Sandbox account using the account portal
Click on the "Manage Sandbox Account" link in the Account section of the left-hand navigation menu [direct link, login required].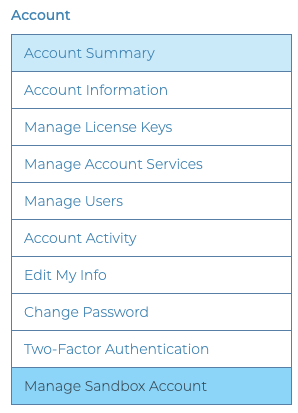 Decide who will administer the Sandbox account. This will be the first admin user on the Sandbox account, but you are able to add additional users to the Sandbox after it has been created.
Enter the administrator's full name and an email address. This email address will serve as the username for the Sandbox admin account, and the account activation email will be sent to this email address.
When you've entered the required information, click the blue button labeled "Create Sandbox Account."
An activation email will be sent to the specified email address, prompting the Sandbox admin to create a password on the Sandbox site. You can learn more about setting a password. The process is the same on the Sandbox site.
Once you have created a password and logged in, the Sandbox account is active and ready to be used.
This page was last updated on .