GeoIP databases may be purchased a la carte, or with a monthly or yearly subscription.
Purchase a new GeoIP2 database
If you are a new customer of MaxMind, or if you are an existing customer looking to purchase a GeoIP2 database you haven't purchased before, you should use the site checkout on our main website.
Look at the product pages on our main website to find the database(s) you would like purchase, and click the buttons to add the subscription(s) to your cart. You can also learn more about our IP geolocation and IP intelligence database offerings on our Knowledge Base.
Once you have the database subscription(s) you would like to purchase in your shopping cart, you can click on the blue "Checkout" button. You will be prompted to sign in to your MaxMind account (for existing customers), or create a new account.
If you would like to purchase the GeoIP Anonymous IP database for proxy detection, the GeoIP Enterprise database, or a commercial license for any of our databases, you can reach out to our sales team.
Purchase database updates and subscriptions of a GeoIP2 database you have bought before through the account portal as an existing customer
Existing customers may also purchase updates or subscriptions to previously purchased databases through the account portal. If you are an existing customer and would like to purchase a new database, please complete your purchase through the product pages on our main website, as described above.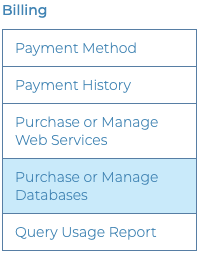 To purchase databases through your account portal, click on 'Purchase or Manage Databases' in the Billing menu of your account portal [direct link, login required]. This feature is restricted to admin users and standard users with billing permission. Learn more about user permissions.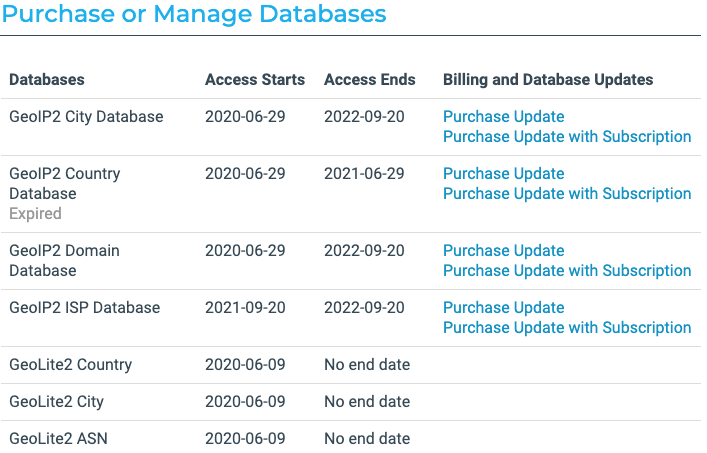 You will see a list of all current and previous databases that you have purchased. To purchase a one-time update, click on 'Purchase Update.' You can also purchase a subscription by clicking on 'Purchase Update with Subscription.'
Learn more about managing your existing subscriptions to databases.
This page was last updated on .